The overarching GATI Pilot is being undertaken in partnership with the British Council which has facilitated collaboration with Advance HE, UK. Through these agencies, 6 Athena SWAN accredited universities in the UK have been selected to partner the GATI Pilot Institutions. These are:
University College London
King's College, London
Queen Mary University of London (QMUL)
University of Manchester
Aston University, Birmingham
University of West Scotland
All the UK Partner Institutions have undergone at least one AS Application round, currently hold an AS award and have staff who have served as panelists in the AS Accreditation process.
Each UK institution has constituted a highly motivated team led by EDI contact and lead applicant to partner with the GATI institutions. The team includes senior academic leaders and members with competencies critical for successful engagement with equality charter processes.
The role of the UK partners is essentially to act as critical friends, provide support, advice and guidance. The partnering teams will share their experiences on collection of data and analysis; and development of SMART action plans with examples of good practices. They will also share material from their institutional AS Applications; experience of peer review; and how the assessment report has helped their progression.
Each UK Institution will partner five GATI Pilot Institutions. This will facilitate deeper engagement and greater peer interaction not just with UK partners but also amongst the GATI institutions. The inherent diversity in the academic and research mandates of participating institutions will enrich the collaborative experience. The UK-India Partner Groups are given in Appendix A.1.
The Partnership Framework has been carefully crafted to facilitate sharing of experience by UK Partner Institutions with the GATI Pilot Institutions. It is envisaged that the partnership will continue for the 18-month duration of the GATI self-assessment and accreditation process.
The programme will be implemented in eight phases. The format of interaction will be online webinars. Each phase will be a one- to three-hour remote video session including Q&A.
The UK partners will share the presentation material with GATI institutions so that they can share it internally within their organization. There will be an agreement between Athena SWAN and GATI partner institutions that materials shared will be only for internal use and cannot be shared externally.
Advance HE will facilitate the use of Advance Connect, a free online networking portal at https://connect.advance-he.ac.uk/. A training session will be provided for all participants. The portal will be a depository of useful resources. Any follow-up discussions and questions from the GATI partner institutions will be asked and answered via HE Connect portal. There will be an agreed response timeframe of 3 to 5 days.
Objectives of the interactive sessions and key points to be addressed by UK partners in 8 phases
Phase 1

Starting out: How to approach your equality charter journey

Why gender equality is important in Higher Education and Research
How the charter process has made an impact on the organization
How to foster buy-in throughout your institution
Objective and importance of conducting self-assessment of policies, structures and cultures
How to plan for self-assessment – structures and support required

Phase 2

Self-assessment process

How to form a self-assessment team, assign roles and responsibilities and give appropriate recognition for the work
How to build self-assessment activities
How to effectively consult, communicate and engage with staff and students
How to future plan and future proof equality charter work so that it is embedded in the organization's systems and structures

Phase 3

Data collection and analysis

Collecting quantitative data and knowing the baselines
Identifying data gaps and how to plug them
Setting up data collection systems for the future
Benchmarking data, why it is important and where to find it
Using qualitative data to untangle the quantitative data
Assessing data and balancing descriptive and analytical narrative
Presenting data clearly

Phase 4

SMART Action planning for success

What a SMART action plan is and the best process to develop one
Importance of setting timelines and milestones
Importance of outcome not output focused actions
How institutional plans are implemented and what happens if an action does not work or the success target is not reached

Phase 5

Lessons learned and good practice examples

Sharing lessons learnt and good practice initiatives that have had a measurable, positive impact
Key discussion areas
-recruitment and enabling career progression
-staff mentoring and leadership development
-satisfaction surveys, organization and culture

Phase 6

Sharing Athena Swan material

Sharing AS submissions (redacted), action plans and assessor panel feedback

Phase 7

Wider workshop participation with resource inputs

(three half-day workshops including break-out groups)

Impact of Athena SWAN on my career: a session including case studies from academic staff
Thinking like a charter's panellist: UK panellists discussing their experiences of assessing Athena SWAN applications
Maintaining momentum regardless of award outcome: UK Athena SWAN members discussing lessons learned after an unsuccessful submission

Phase 8

Discussant role

Providing general support, including answering specific questions around self-assessment application process

Phase 9

Study tour of UK

UK Institutions to host a visit from India of the GATI Pilot Institutions, assuming that international travel is permitted
Proposed Timeline of Activities between UK- GATI Partners
UK Partner Institutions will share presentation materials with GATI Pilot Institutions so that they can share them internally with their organization. Follow up discussions and questions from all online sessions to be answered via HE Connect portal.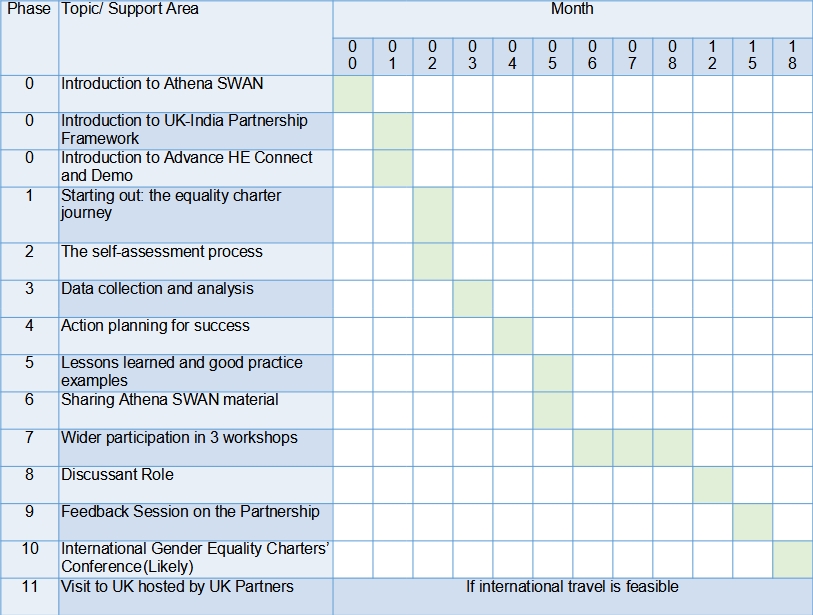 Each Interactive Session will be an online video session from one to three hour duration.
UK Partner Institutions will share action plans and Athena Swan panel feedback (redacted) with Indian GATI Pilot Institutions.
UK Partners will take on a discussant role. They will familiarise themselves with the GATI Pilot Self-assessment Application Form, Accreditation Criteria, Handbook, Review and Assessment process; and watch the GATI Assessor Panellist training video.
If the GATI Pilot Institution chooses to share its self-assessment application, UK Partner will read, comment and provide feedback on the self-assessment application.
Role of British Council and Advance HE, UK
British Council is the UK's international organization for cultural relations and educational opportunities. Department of Science and Technology and British Council have convergence of interest in promoting gender equality in higher education and science in India. This has led to a collaboration on project GATI with signing of an MoU between DST and British Council.
Advance HE owns and manages the Athena Swan Charter, a systematic change initiative that was founded in 2005 to improve gender equality in STEMM in the UK.
The Athena Swan Charter
Raises awareness of diversity issues and the reasons behind them.
Facilitates better monitoring and reporting of diversity in science and research.
Encourages a significant shift in organizational culture that fosters a professional and diverse environment where everyone can excel.
British Council has invited Advance HE to support the development of India's initiative on gender equality, namely, the Pilot of GATI.
The objective is to
Share knowledge and experience of Athena Swan.
Engage, partner and support 30 Higher Education and Research Institutes that have been selected for the Pilot.
Help GATI Pilot institutions build competencies as they work towards reaching global best practice in gender equality.
Structured activities to engender capacity will entail
Facilitating proactive partnerships between higher education, science and technology institutions in India, peer institutions in the UK through Advance HE.
Sharing of experiences and good practices on development of policies and practices to bring about transformational change in areas such as recruitment and promotion policies and practices; mentoring and leadership development; and management of organization.
Supporting the development of guidance, resources, materials and training for Pilot Institutions.
Delivering workshops and training to support Pilot participants including topics such as SMART action planning, data analysis and peer review training.
Providing support in the assessment, accreditation and feedback process.
GATI Pilot aims to establish a sustained long-term association between institutions of Higher Education and Research in India and UK and open many opportunities for the partners.